Research Group From Bronx, New York Discovers Brand New Way to...
Add Lean, Attractive Muscle From Head to Toe in 6-minutes
By Unlocking a 3rd Wave of "Super Fibers" Inside Every Muscle Group!
You can have complete control over the way your body looks…
And — like a master sculptor — shape it exactly how you want…
Without slaving away at the gym for hours every week…
Doing full body workouts that leave you lying in a pool of sweat…
And feeling "dog tired" by the time you're done…
With very little to show for it. Instead…
You can show off the body you've always dreamed of…
In

LESS

Time Than It Takes Some People To Complete Just

ONE

Workout…
Using a brand new method that's been "in hiding" until now.
So if you're sick of dragging through long and painful training sessions…
And you're tired of "slow-go" results that leave you unsatisfied when you look in the mirror…
Then you don't want to miss a single word on this page…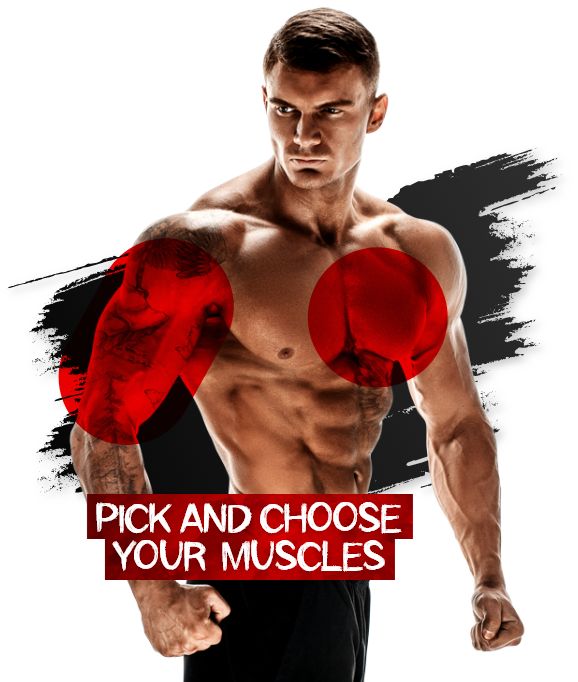 Because you're just moments away from uncovering a brand new 6-minute "time saver" method…
That gives you the power to "pick and choose" muscles on your body that you want to strengthen and tone…
With complete control over how quickly they grow…
While training less in the next several weeks than most people do in a single gym session... and getting BETTER results than multiple long workouts could ever give you…
Using an amazingly simple concept discovered by researchers from The University Of New York City…
Proven to be a "superior way to build lean muscle".
Brand new studies — published just months ago — confirm…
It's the fastest and easiest way to get the body you desire and deserve. Because it...
Activates A Wave Of "Super Fibers" In Your Muscles That Most People NEVER Tap Into…
I'll explain more about these "Super Fibers"… and the secret way to "awaken" them in any muscle group in just a moment…
So for the first time — you can shape your body on your terms…
Using a convenient 6-minute protocol that's so user-friendly it fits into even the world's busiest schedule. Plus…
It works for both men and women… no matter what your age or weight right now. And even if you haven't worked out in a long time.
Seriously… getting your ideal physique has NEVER been this easy before.
But before I go on about how much you'll love the solution I have waiting for you on this page…
Can you do something for me real quick?
Think About A Certain Part Of Your Body That You Wish Had More Lean And Attractive Muscle…
And how confident you'll feel when you take control of that muscle group and shape it exactly the way you're picturing right now…
Maybe it's having a strong and chiseled chest that makes you feel more powerful at the office…
Or round and curvy glutes that look great in a pair of yoga pants…
Or maybe it's having muscular arms that hug the sleeves of your shirts… or look toned and athletic instead of jiggly and weak.
Whatever muscle group you're thinking of right now…
And whatever way you want it to look…
You're just moments away from starting on the fastest (and easiest) path to get there.
And you'll enjoy a complete upgrade in as little as a few weeks.
Sounds amazing, right?
What's also exciting is…
Harvard University Calls This Method "The Key To Controlling Belly Fat"
So you can get a lean and eye-catching core…
While toning those parts of your body you were thinking of a moment ago.
I know it sounds too good to be true…
But that's because nothing like this has ever existed before now.
So keep reading… Because you don't want to miss out on this brand new solution to achieve the body of your dreams in less time than it takes most people to complete just one workout. Plus…
I'm going to share more about the physique-shaping "Super Fibers" hidden deep within your muscles…
And the ONLY way to "wake them up" so you build strong and attractive muscle at rapid speed…
Using a convenient 6-minute trick that's only available here and now.
But before I do…
Let Me Tell You How I Stumbled On This Simple Body-Shaping Solution…
Hey. Chandler Marchman here…
Creator of the MetCon-6 and MetCon-6 Hardcore programs that have taken the world by storm…
And helped thousands of men and women across the globe improve their bodies and lives using short 6-minute workouts.
If there's one thing I've learned after more than a decade in the fitness industry… it's this…
If you're ever going to get the body you desire…
You need something that works fast… and takes so little time you can stick to it even when your schedule is jam-packed. In fact…
As a trainer, business owner, husband and father myself…
Short and effective 6-minute workouts have been the "holy grail" of fitness solutions for me…
Because they keep me in amazing shape…
Even when my schedule is stacked against me…
My Body Even Looks Better Today Using 6-Minute Workouts Than It Did When I Was Training An Hour Every Day…
And a ton of my clients say the same thing…
They love my MetCon-6 and MetCon-6 Hardcore programs so much they've been begging me to come out with another short and sweet 6-minute program to transform their bodies quickly…
Which is why you're reading this page right now…
Because I'm not interested in stroking my own ego… and releasing solutions without checking in and hearing what you need from me.
I want to give YOU what YOU want.
So a few months ago… I "went back to the drawing board"...
And took a survey from my clients…
Asking them what they'd like most in a short, 6-minute protocol. And…
I Got Hundreds Of Responses Asking For A Way To Gain Lean And Attractive Muscle In Specific Muscle Groups…
I received emails back saying things like…
Now don't get me wrong…
It's not like there aren't programs out there that can help you improve specific muscle groups. But…
Most of them take at least an hour… require lifting dangerously heavy weights… and suck the energy right out of you…
So even if you get out of bed at 5:30 am like a champ… and finish your workout before the sun comes up…
You basically set yourself up for failure the rest of the day because of how tired you are.
That's why the 6-minute threshold is key…
Because it's long enough to energize your body and activate your "Super Fibers" (which I'll tell you more about in just a second)...
Yet it's short enough that it doesn't leave you feeling exhausted afterward.
So after listening to men and women just like you with busy schedules… who want the shortest and most effective workout possible…
I Set Out To Create A Complete Plan From Start To Finish To Help You Grow ANY Muscle Group In Your Body
You get to choose which muscle group gets the most attention…
Kind of like going to a buffet and getting to decide exactly what food you want to put on your plate… and how much of it.
And the best part is…
It's completely science-backed. Meaning it's been proven over and over again to work. See…
Creating a solution that gives BIG results in a very short amount of time takes a lot of effort…
And a ton of research to make sure that what I'm promising you will actually happen.
So after reviewing all the answers from the survey I sent out…
I spent several months catching up with the newest and best proven studies I could find… that can be crafted into a program to help you build your body exactly the way you want it.
And that's when I stumbled on a new group of studies from a research team in The Bronx, New York that…
Discovered The BEST Way To Build Lean And Attractive Muscle In A Hurry Takes Only Two Simple Steps…
"Focus Train" on your desired muscle group several times per week…
Unlock the "Super Fibers" in that muscle group when you train.
Let's start with the first one…
Focus Training means giving a specific muscle most of your attention during your workouts…
Several times per week…
And when you do this… you'll have a much easier time shaping specific parts of your body. (11) (12)
Here's why…
Your body becomes its function…
Which means (for example) if you run long distance a lot, your body will become smaller and lighter in order to handle that cardio function better…
If you lift weights, your body will become more muscular and strong so it can handle resistance better…
So by training a specific body part several times per week…
You'll take advantage of this automatic "molding process"... where your body adapts to the kind of stress it's familiar with.
For example… if you want a rounder and more muscular booty…
The way to "trick" your glutes so that they grow faster is to put your booty through a constant workload…
In other words… train that muscle specifically several days a week. When you do that — your body will quickly adapt by shuffling more of its "recovery resources" there.
And with that… you'll experience consistent and phenomenal results.
This works for any and every muscle group. (13)
But there's a catch…
Not just any form of exercise will do if you want to unlock the very best head-turning results. To do that you need to…
Activate A Group Of Growth Fibers In The Muscle Called "Super Fibers"...
See… every muscle in your body has "waves" of muscle fibers. (14)
And each wave of muscle fibers responds to a particular kind of muscle stimulation. However…
It's the "Super Fibers" that accelerate muscle growth, boost strength, and help you achieve an attractive physique. And these fibers even help erase body fat, too. (15) (16) (17)
Here's how "fiber waves" work…
When you begin to exercise… a first wave of muscle fibers is activated the moment you start…
These muscle fibers "get you going". But they don't do much for shaping your body…
They more or less just help you get used to the motion of the exercise.
Then — after a few repetitions — the first wave of fibers gets tired…
And can no longer produce enough force to move the weight you're training with…
So your muscles then recruit a second wave of muscle fibers to help out…
But after a few more repetitions — this second wave of muscle fibers gets tired, too…
And they can't produce enough force to move the weight either.
That's When The 3rd Wave Of Muscle Fibers Comes To The Rescue…
I call these "Super Fibers"...
Because they're most responsible for building muscle…
And they're larger than the other muscle fibers in your body. (18)
The trick is — Super Fibers only "wake up" when the first two waves of muscle fibers have reached max capacity… and can't go any longer.
But here's where most training programs fall short…
… especially ones that feature shorter workouts…
Because most of them fail to ever exhaust the first two waves of muscle fibers…
And leave that third wave — your Super Fibers — asleep.
So here's the deal…
If you want to unlock Super Fibers…
And keep them unlocked for an entire 6-minute workout…
You need a protocol that is hyper-focused on a specific muscle group… and quickly moves you past the first two waves of muscle fibers so you can reach that third wave in just seconds.
Because if you want to get the most out of your convenient 6-minute plan — there's no time to waste…
Which Is Why I Created An Entire Done-For-You System…
That develops any muscle group you want in just 6-minutes per workout by unlocking the Super Fibers in that specific muscle quickly… and keeps them working for you…
So you can enjoy accelerated muscle growth on your terms.
And have more control over the way your body looks than ever before.
Imagine…
and choosing any muscle group on your body…
And building and toning those muscles with ease…
Using only a few weeks of short, convenient done-for-you 6-minute workouts….
Until you shape them exactly the way you like.
In total — you'll spend less time over the next several weeks than some people spend on just one workout…
Because while they fail to unlock Super Fibers all workout long…
You'll unlock them quickly…
And keep them activated all workout long for maximal results.
There is no other training system like this… that gives you complete control of your physique…
And rapid results in just 6-minutes…
The Brand New Science-Backed Solution Proven To Re-Shape Your
Physique EXACTLY How You Want It… By Unlocking 3rd Wave
"Super Fibers" In Any Muscle — In Just 6-Minutes!
Each Done-For-You Specialization Plan Inside BodyCon-6 Contains 4 Weeks Of Workouts — 4 Workouts Per Week — And Just 6 Minutes Each Workout. So You Can Achieve Your Dream Body Quickly, Effectively And Completely Hassle-Free…
Each Workout Is So Short Yet Powerful It Fits Into Even The Busiest Schedule With Ease… And Makes It More Convenient Than Ever To Craft A Physique You're Proud Of…
Here's What You Get With BodyCon-6...
Chest Specialization Plan
Tired of having flabby "man boobs" or "bra fat"…
Don't like the way your pecs look in form-fitting shirts…
Want to increase the size of your chest?
Fix every frustration — and sculpt an upper body you're proud of — in just 6-minutes… without having to wrestle someone for a bench press…
And using joint-friendly movements that protect your shoulders, elbows, and wrists from injuries that thousands of gym-goers experience every year.
Inside The BodyCon-6 Chest Specialization Plan You'll Learn…
How to get a strong and "fluff-free" chest without lifting a single heavy barbell or dumbbell… yet at the same time giving your chest a better workout than EVER before…
The amazingly simple kettlebell exercise that helps you "lock-in" to a chest-chiseling "sweet spot" that can ONLY be accessed in this way… (99% of people have never heard of this move that'll give you complete control over how your chest looks after just a few workouts.)
A step-by-step guide that walks you through every chest exercise… and makes getting a tight and toned chest a breeze… (Just do every move as laid out for you inside and you'll love how your chest looks and fits in any piece of clothing — and even stripped down to almost nothing on the beach.)
Why endless pushups and bench presses will make your chest look WORSE… How to transform a bony, flat chest into solid muscle… why training your chest can be like a "magic act" that makes your waist look smaller… the at-home chest moves you never knew existed… and so much more!
Your back is the largest muscle group in your entire upper body…
And can make all the difference in the world when it comes to building a body that others respect or find attractive.
Whether you're a guy dressed in a form-fitting button-down shirt… or stripped down into your boxers before a night of fun in the bedroom…
Or you're a gal sporting a little back dress showing off your upper back… or you're catching a sun-tan in a two-piece bikini…
If you give your back muscles a little extra attention during your workouts…
I guarantee you'll get some extra attention, too.
Inside The BodyCon-6 Back Specialization Plan You'll Get…
The "no contest" undisputed champion of back exercises… (This single exercise releases an impressive amount of growth hormone into your body — making it easy as ever to shape your back just the way you want it to look.)
How to completely ditch lower back fat without touching a single weight… This move is so simple you can do it while watching your favorite television show and it'll hardly even feel like you're working out.)
The safest (and fastest) way to get a lean upper back by rotating a kettlebell in this very specific way…
How to get all the benefits of the world's most powerful exercise — the deadlift — without loading up a barbell or straining your lower back (or even lifting anything heavy)… the super-simple technique to "activate" your back muscles before a workout… exactly how long to hold a "Superman" pose to unlock super fibers in your back… and so much more!
Shoulders & Traps Specialization Plan
Shoulders and traps are the "X Factor" to a truly attractive physique…
For men — they're a symbol of dominance and alpha mojo…
For women — they're a sign of power and health… and even beauty…
And with this unique plan that shapes your shoulders to perfection… you'll unlock all the perks of strong and even seductive shoulders that make your body stand out from the rest.
Inside The BodyCon-6 Shoulders & Traps Specialization Plan You'll Get…
Exclusive laser-focused shoulder exercises that very few people know about… (each move hits at least 2 of your 4 shoulder "heads" so you get well-rounded shoulders at rapid speed.)
How to unleash a gentle rush of muscle-building nutrients into your shoulders by holding this one position for 30-seconds…
The #1 mistake you can make when training your shoulders. (It's so sneaky that even if you do everything else "right" you'll never reach your full potential if you accidentally do this.)
Why you should NEVER lift a heavy barbell over your head again… how to choose how muscular your traps are (yes, the choice is all yours!)... why working out your shoulders and traps in the morning will upgrade growth hormones and make getting leaner and stronger almost automatic… and so much more!
It doesn't matter if it's winter… spring… summer… or fall…
The one muscle group that EVERYONE notices year-round… is your arms.
Yet — this is one of the most frustrating muscle groups to build! (But not anymore).
With this arms-only 4-week program, you'll strengthen and tone your arms faster than ever before… and feel great about the way they look all year round.
Inside The BodyCon-6 Arms Specialization Plan You'll Get…
"Cream of the crop" bicep exercises that make it easy to add muscle to even the thinnest, rail-like set of pipes out there…
How to get toned triceps by laying on the floor with a kettlebell… (this is hands-down the safest way to get strong and well-shaped triceps in just minutes.)
Breaking News For Men! Women LOVE a guy with thick and veiny forearms… get a set of muscular forearms she craves in just a few specialization workouts…
How to get chiseled arms using nothing more than a hand towel… the best way to train your arms without hurting your elbows or wrists… a forearm kettlebell exercise that's so easy you can do it while "relaxing" in bed… and so much more!
Legs And Glutes Specialization Plan
Your legs hold some of the most important and powerful muscles in your body…
And some of the most attractive ones, too…
With this amazingly simple yet effective 4-week plan you'll unlock months worth of leg gains… in just weeks…
And love the way your legs and glutes look in any pair of pants, shorts and even down to a bikini!
Inside The BodyCon-6 Legs And Glutes Specialization Plan You'll Get…
The "biggest bang for your buck" leg moves that'll accelerate lean and toned muscle growth in your hamstrings… thighs… quads… glutes… and even your calves… all at once.
A complete list of booty blasting exercises that'll give you curvy, muscular glutes in just minutes… (it's amazing how much sex-appeal you can achieve simply by adding extra muscular-thickness to your glutes.)
How to get stronger legs without lifting uncomfortable and heavy weight that crushes your spine and just downright dangerous…
Unbeatable "bubble butt" exercises that'll transform your booty from flabby to full in no time… the easiest way to get a better-looking set of calves in just days (even if you have THE WORST "calf genetics")... the one position you can hold for 30-60 seconds to unlock toning Super Fibers in seconds… and so much more!
Have you ever dreamed of taking your shirt off at the beach…
And stealing everyone's attention because of how great your midsection looks?
With this specialization plan… you can make that dream a reality. Because in only a few weeks you'll sculpt a head-turning set of abs that you love showing off. Plus…
You'll strengthen your core and reinforce the foundation of your body. So you can protect your posture and love the way you look at the same time.
Inside The BodyCon-6 Core Specialization Plan You'll Get…
The #1 worst exercise you can do if you want six-pack abs. (This highly popular move is a waste of time and is quietly doing harm to your back — avoid it at all costs!)
Simple oblique exercises that'll make love handles vanish! These moves are so effective they can shrink your midsection and tone your belly in minutes… no matter how long you've wrestled with belly fat.)
The best kettlebell core exercises of all time… (mix a single kettlebell move with this plank technique and you'll develop a bulletproof body in weeks.)
How to perform a kettlebell "bob and weave" for knockout abs... the simple "holding hack" you can do during your workout (or even during the commercial break of your favorite T.V. show) for unbeatable abs… a unique way to "breathe out belly fat" while you train… and so much more!
Add Lean And Attractive Muscle To Your Physique With This Proven Done-For-You 6-Minute Method…
Now given everything you've discovered today about the importance of unlocking "Super Fibers" in your muscles…
And how to do it in just 6-minutes… with the amazingly simple done-for-you BodyCon-6 program that fits into even the busiest schedule…
I bet you're wondering how you can get your hands on it as fast as possible. Plus — how often you should use BodyCon-6 to get the best and fastest results.
Honestly… getting the most out of BodyCon-6 is really easy…
After you purchase the program, you'll have access to each one of the specialization plans I mentioned above. Pick one of those plans to follow along with 4 days per week…
At the end of 4 weeks… you'll have drastically improved the strength and size of that specific muscle group.
If you want to work on two muscle groups in one week… you can rotate back and forth between the two programs (and you will have completed both programs in just 8 short weeks).
Also… if you're currently using one of my other 6-minute programs like MetCon-6 or MetCon-6 Hardcore…
You don't have to give those up to use this specialization program.
Just purchase the entire program — for a dirt-cheap price that I'll share with you in just a second — and then add any one of the plans to your week of current workouts.
There's a lot of flexibility for you here… But the one thing I can say for sure… is you're going to see amazing results.
But even though the program will work magic for you…
I need you to read carefully. Because…
When I created BodyCon-6 I decided to keep the number of copies I sell to a minimum…
At least for the first few months.
The reason is because I'm a coach at heart…
And because activating "Super Fibers" is still a pretty new concept… I want to be able to coach you through it if you run into any problems at all…
And I can't do that if I have thousands of men and women purchasing this program… (which WILL happen if I don't put a lid on it right now). For that reason…
I'm Only Releasing 350 Copies Of BodyCon-6 To The Public For Now…
Once I hit the 350 copies… I'm going to close it down for a while…
And then I'm going to jack the price up to where it should be.
You should act now if you're even slightly interested in getting your hands on this program…
Because like I said earlier…
Men and women everywhere have been emailing me… texting me… even showing up at my gym… begging for a series of 6-minute programs that'll help them get their dream body…
It's the whole reason why I created BodyCon-6 in the first place.
So there's a TON of demand for this program.
So I have no doubt BodyCon-6 is going to sell out in just a few days… if not a few hours.
The wisest move you can make is to purchase BodyCon-6 right here and now while I still have your copy of the program waiting for you… before it's too late.
And listen…
To make your decision as easy as possible today…
And so that you don't miss this opportunity… I'm going to give you…
A Special Discounted Price That Expires After I Sell Out Of The First 350 Copies Of BodyCon-6…
Normally I would charge $549 for a program like this…
After all… I basically had to create 6 programs in one… (1 for every muscle group).
It took a lot of time to research this brand-new training protocol… months to put it together into a dialed-in program… and a bunch of time to put the manuals and the 60+ exercise tutorials together for you.
Plus… $549 is pretty fair when you consider that most personal trainers charge that for just one month of working with them…
But I'm going to save you time and money right here and now.
Even though I could charge $549 for BodyCon-6 and it would be totally worth it for you…
Money isn't my mission…
My main goal in life is to help as many people as possible love the way their body looks… and feel confident and proud of their physique…
So I'd hate for you to miss out on your opportunity to do that today… especially over something like cost…
Which is why I'm not going to charge you $549 for BodyCon-6 today…
I won't even charge you half that…
Instead… on this page only… and during this initial launch…
You can purchase BodyCon-6 for the bargain price of only $37.
All you have to do is click the "Add To Cart" button below and you'll be taken to a secure checkout page where you'll complete your order.
Within seconds you'll gain access to the BodyCon-6 download page where you'll have every specialization plan inside the program. And can get started whenever is best for you.
Remember — the $37 price is only for the first 350 people who take the plunge today and grab the program.
So don't miss this amazing opportunity to unlock your dream body with simple 6-minute workouts starting today…
I really want to make this decision as easy as possible for you today…
So in addition to the limited-time discount price…
I also want to back you with my 365-Day 100% Money Back Triple Guarantee…
365 Day 100% Money Back
Triple Guarantee
You want a program that gives you REAL results…
Not just some "I-think-I-look-a-little-better" kind of results.
I'm talking about results you can see. That boost your confidence. Leave you giddy with excitement. And make it impossible to NOT stare at your physique in the mirror each morning.
I've gone above and beyond to give you a program that unlocks those kinds of results for you…
So if you don't get stronger… build muscle… and get a more attractive physique after a full year of using this program…
Just let me know and you'll get every penny of your investment back.
You might be wondering why I'm giving you 365 days to try out BodyCon-6.
See… most guys will only give you 30 or 60 days to try out a program…
But I know that figuring out how to fit a workout program into your schedule – even one as simple as these short 6-minute workouts — can take some planning.
It won't take long to do that.
After all... they're so short you can do them spontaneously on a lunch break or before bed with your kids if you want...
But I don't want you to feel rushed…
Which is why you have a full 365-days to try BodyCon-6 and see if it's right for you.
If for any reason you don't see the results you want... just send me an email and you'll get every penny of your money back.
This is a true zero-risk, all-reward opportunity.
So what are you waiting for?
You have nothing to lose... and a strong, toned and more attractive body to gain.
At the very least... if you're on the fence... purchase the program now and decide if it's for you later so can get the limited-time discounted price today.
Just click the "ADD TO CART" button below to get started right away.
Click The "Add To Cart" Button Below To Get Started
You Have 2 Options Of Where To Go From Here…
And pass up on this unique opportunity to get your dream body in just a few weeks using 6-minute workouts.
With this option you'll keep trying to squeeze long, painful and exhausting workouts into your busy schedule…
Missing some workouts because your calendar is too cramped…
And feeling too tired for other workouts…
Because trying to keep up with your tiring schedule AND adding workouts on top of that has your body begging you for naps throughout the day…
Or causes you to hit the "Snooze" button when your alarm goes off in the morning…
Until you run out of time to make it to the gym, get ready for work, get the kids to school and then head to the office. So you skip your workout altogether…
And your motivation to get a body you love starts to dwindle away…
Like a candle flame in a ferocious gust of wind.
But let's say you're "dead set" on getting the body of your dreams…
And you've committed to squeezing every last drop out of your schedule to get a workout in each day.
So you stick with one of those traditional "slow-go" workout programs that takes forever to get results…
And after months of wanting your muscles to look a certain way…
But not seeing the results you desire…
You'll get frustrated with yourself and with your body…
And be miserable when you look in the mirror each day… and feel trapped inside a body you aren't proud of.
Wondering if you're ever going to see the day when you have a body you're confident in… and love showing off.
After a while of the same frustrations over and over again…
You'll kick yourself for passing up on this opportunity today…
Especially if you decide to try and come back… but I've already sold out of the 350 copies at the special discount price that's only available for the first 350 men and women who purchase BodyCon-6.
Honestly — this option isn't for you…
It's too much hassle… takes too much time… and (I know this sounds bad) it's too much work that you really don't need to put in.
The best option for you today is the next one…
By purchasing BodyCon-6 today…
The ONLY training system created to awaken your "Super Fibers" and give you the power to shape any muscle group you want exactly how you want it to look.
If you want muscular shoulders…
A leaner chest…
A round and curvy booty…
Or anything else…
It's yours. With amazingly efficient 6-minute workouts — just 4 days per week…
Meaning you won't have to juggle a bunch of things in your schedule… or try to squeeze in a workout when you really don't have time to…
Because everybody has 6-minutes of spare time to workout…
Especially when each workout guarantees to bring you closer to your dream body… until one day you're giddy with excitement when you look in the mirror and love the way your body looks.
As an added bonus…
You'll shed fat… energize your body… and feel bold with confidence after every hassle-free 6-minute workout. Plus…
You'll do it at a price that's so cheap…
You can probably pay for it with the change in the cupholder of your car.
But remember… I'm only selling 350 copies of this brand new program before I drastically increase the price…
And I can't guarantee it'll still be here days… or even hours from now.
You're so close to hopping on the fast path to your dream body…
So don't wait any longer…
Your Friend and Coach,
Chandler Marchman
P.S. If you want to add lean, strong and attractive muscle to your body using a brand new method proven to activate "Super Fibers" in any muscle group… what's stopping you? You're here for a reason. You're tired of waiting and wishing for a body you feel confident in — and are excited to show off. It's time to get the body you desire and deserve at absolutely no risk to you whatsoever.
P.P.S. And don't forget... you're backed up by my 365-Day 100% Money Back Triple Guarantee. You truly have nothing to lose. If you can't start the program right away — at the very least you can buy it now and try it whenever is best for you. But I wouldn't wait any longer if I were you. I'm only giving away 350 copies of this program so I can make sure everyone who buys it gets the best experience. I can't promise it'll be here tomorrow. So claim your discounted copy while you still can.
Frequently Asked Questions
This program is for men and women of any age who want to finally step into their dream body using a program that fits nice and neatly into their schedule… and is as efficient as possible.
If you want something that'll give you FAST results in just 6-minutes, 4 days per week — then this program is for you.
Can I Mix This Program With Other Training Programs?
Definitely. Even though BodyCon-6 is designed to build muscle, burn fat and help you get your dream body without the help of other programs, it can also pair well with practically ANY other training program on the planet. You can use it as a "tack-on" to the end of MetCon-6 or one of the other programs I've created.
If you have a training program that you're dedicated to already, BodyCon-6 works great as a series of de-load weeks if you're a bodybuilder, powerlifter, or even just as your official "hotel room training routine" when you find yourself on a business trip or vacation.
Absolutely. I've personally put together every training protocol inside this program — and have battle-tested it myself, along with personal clients of mine. It's safer than other programs because you won't be lifting heavy weights. Plus, I've ensured that each movement is joint-friendly for every age…
I've also added exercise substitutions that you can swap in if you don't feel comfortable performing a specific move.
I've Overweight And Feel Stuck. Is This For Me?
I fully believe that BodyCon-6 is the answer to getting your best body from top to bottom. Studies from Harvard show this program is just as good as any for losing body fat. Once you get started on this program you'll kick your fat-burning hormones and your metabolism into full-gear after the very first workout. From that point forward you'll be on the golden path to a body you love.
Will I Eventually Adapt To This Program?
No. Here's why…
First, you don't have to stick to only one muscle group in the program. Meaning — for example — that after you shape your chest the way you want it, you can move on to your legs. Or you can use a combination of plans throughout the week.
Also, to keep your body from adapting, all you need to do is increase the amount of weight you use when you train. I'll show you how to do that inside the program. So — for example — after you finish the 4-week legs and glutes plan, you can do the whole thing again. Just use slightly more weight when you train and you'll continue to see phenomenal results.
Is This A Physical Or Digital Program?
BodyCon-6 is 100% digital meaning once you complete your purchase, you'll have access to the entire program right away via download.
How Long Does It Take For Me To Get The Program?
About 10 seconds to a few minutes. After you complete your purchase, you'll get instant access to the entire BodyCon-6 program. You can download it to your computer and start shaping your body right away. Nothing is shipped in the mail, so you don't have to wait through any long fulfillment process for your program. Plus, doing it this way allows me to offer you the entire system at a reduced price, which are bonus points for you.
Is My Credit Card And Personal Information Safe?
Absolutely. When you click the "Add To Cart" button you'll be taken to a secure checkout form where you'll complete your purchase. Your credit card and personal information will be electronically processed without compromise.