Eat 1 Cup Of This

Ruby Red Fruit

Before 10 AM To Stay Young, Chiseled, And Loaded With Energy - Regardless Of Age!
Men In Their 40s Feel Like They're 20... And Have The Muscle, Energy, Libido, And Confidence To Prove It.
Men In Their 40s Feel Like They're 20... And Have The Muscle, Energy, Libido, And Confidence To Prove It.
You're getting older and there ain't nothin' you can do about it.
But you decide HOW you age…
You can gain a few more pounds of organ-suffocating body fat…
Lose the last bit of muscle you had from your college lifting days…
Feel too tired to play with your kids…
And too sore to keep up with your hobbies…
Rapidly approaching the day your doctor shakes his head and says…
You have type 2 diabetes and heart disease… We need to start you on insulin and statins.
You can lie awake at night…
Your stomach wrenched in knots wondering if you'll see your kids grow up…
Thinking about what people will say at your funeral…
Until one day - *snap* - the lights go out.
Getting Older Can Be A Living Hell If You Let It - Or It Can Be Like A Slice Of Heaven On Earth…
Because while most guys think "anti-aging" is a pipe dream, a gimmick, or something reserved for billionaires in Hollywood who can afford expensive stem cell treatments…
There's been a massive surge in natural ways to fight Father Time…
The most powerful being a simple ruby red fruit…
That creates a "time machine effect" in the body…
Reversing decades of damage that's already been done…1
And restoring youth in literally seconds.
It's as easy as 1, 2, 3…
And works regardless of age or what kind of shape you're in…
Some are even calling it a borderline miracle.2
This

Ruby Red Fruit

Contains Powerful Natural Chemicals That Combat The Root Cause Of Hellish Aging…
A group of sneaky "age accelerator" molecules…
That have been silently wreaking havoc on your body for years…
And multiply at breakneck speed in men over 40. 3
And no…
This problem can't be solved with diet and exercise. In fact…
The most popular forms of diet and exercise can cause massive spikes in "age accelerator" molecules if you aren't careful…
(I'll explain what types of exercise to avoid in a minute)...
But the good news is, over the last 18 months "age accelerator" molecules have been the topic of discussion at top medical schools and male health seminars…
And cutting edge research shows just how simple it can be to eliminate them…
And when you follow the simple strategy on this page…
And start eating 1 cup of this ruby red "time machine" fruit with your morning coffee…
Instead of aging like a chunky gallon of expired milk…
You can age like a glass of fine red wine…
And chisel stubborn, uncomfortable fat off your belly, chest, and love handles…
Show off a sculpted, Greek-statue-like physique…
And feel confident when your shirt comes off…
Whether you're having sex with the lights on or kicking back with your feet in the sand.
Instead of slowing down you'll have tons of youthful energy…
To lift weights with your sons…
Go hiking with your daughters…
And stay as active as you want to be…
And instead of being slowly crushed by health issues like a boa constricting its prey…
You can be a strong support system for your family for as long as they need you.
I'll show you exactly how inside this new men's health report. Now…
I'm no one special. I'm just Coach MANdler, at your service…
But after hitting a rut of my own…
Wondering why my old diet and workout tricks didn't give me results like they used to…
And lacking the energy to keep up with my wife and kids…
I stumbled on this simple way to start feeling like me again…
And I'll lay out all the research so you can start feeling like YOU again, too.
So get excited…
Because you're about to learn how to…
Fight back against dangerous "age accelerator" molecules…
Break free from your health rut, no matter how stuck you feel…
Revitalize your energy…
And reclaim the muscle building ability you had in your youth…
While boosting your confidence and restoring your vitality…
But before I get into the details on what these "age accelerator" molecules are…
And how to use the ruby red fruit to take them out like a sniper on a rooftop…
Here's why I got interested in the topic…
I Thought I Had It All Figured Out…
I'm a trainer. I workout almost daily. Have a supportive wife and family. And live a pretty healthy lifestyle (though I like my fair share of beer and bratwurst)…
But for some reason my body stopped responding to my workouts like it used to.
I was training just as hard but seeing less results…
More tired after my workouts…
Too drained to spend quality time with my family…
And I woke up stiff in the mornings…
So I asked myself…
Why have I stopped seeing results if I'm doing the same workouts as before?
Most guys would chalk it up to getting older…
But if that were the case, why are there "silver foxes" out there?
Dudes in their 50s, 60s, and 70s who have tons of energy, chiseled abs, and keep their wives happy in the bedroom…
If "getting older" was the problem, these kinds of guys wouldn't exist…
So I did some digging, and learned…
There's Not Much Difference Between Your 20 Year Old Body And Your 40 Year Old Body - Except For How Quickly The

"Age Accelerator"

Molecules Begin To Multiply…
And most of that is completely in your control…
Because while the "age accelerator" molecule may naturally increase as you get older…
There are other factors that make the problem much worse.
You'll see what I mean in a minute. In general here's how it works:
The faster these "age accelerator" molecules multiply, the faster you "age"...
The slower these "age accelerator" molecules multiply, the slower you "age"...
It's important to note that when I talk about age…
I'm not talking about what generation you're from or how many candles are on the next birthday cake…
The Concept Of "Age" Is Much Bigger Than That…
Scientists call it "biological age". See…
Chronological age is the number of years you've been alive…
But biological age is how "old" or "young" your cells and tissues are…
And while you can't change your chronological age…
You can change your biological age.4 For example…
If you're healthy and fit for your age…
Your biological age may be much lower than your chronological age…
Think guys who are in their 50s, but have lots of energy, positivity, and good health.
But if you aren't in great shape…
Your biological age may be higher than your chronological age…
Think guys who are in their 30s are tired all the time, and have health issues.
Research Suggests Biological Age Is More Accurate Than Chronological Age For Predicting Disease And Death…5 6
And one of the first things they look at to decide biological age…
In the presence of "age accelerator" molecules.7
But thanks to a cutting edge new way to reverse aging from the inside-out…
One that's backed by the top anti-aging and men's health scientists in the world…
You can literally reverse the youth-sucking damage these "age accelerator" molecules have caused over the last few years and maybe even decades of your life…
So you never have to stand in front of the mirror and stare at your reflection in disgust…
Or feel trapped inside a body you hate, unable to escape the fatigue and soreness…
Or let these vicious "age accelerator" molecules devour your health and happiness like they do to millions of men.
But before I tell you how this simple habit works…
Let Me Explain Exactly What These "Age Accelerator" Molecules Are…
They're called "free radicals"...
Imagine that your body is like a car and each cell in your body is a part of the car…
Now imagine that free radicals are like dirt and grime that build up in the car…
Causing it to get rusty and fall apart…
Well, that's exactly what they do inside your body…
These tiny molecules cause the cells in your muscles, heart, brain, lungs, and everywhere else to get "rusty"...
Which weakens your body over time and accelerates aging.
In other words, free radicals make you old… 8 9
And You May Be Worsening The Problem If You Make These

3 Free Radical Multiplier Mistakes:
Free Radical Multiplier #1:
Researchers from the School of Sport Sciences in Japan discovered a link between diet and free radical damage… 10
They found men who have an extra 5 lbs of belly fat or more have more free radicals in their bodies than men at a normal weight…
And that's because belly fat is a breeding ground for free radicals. 11 12
Plus there are certain foods that increase free radicals…
Like refined carbohydrates and sugars - including bread, pizza dough, pasta, pastries, breakfast cereal, dessert… 13
As well as processed meats like sausage, bacon and salami…14
And unless you're strict on your diet you probably eat those foods on a weekly basis…
And every time you do, it's like hitting the fast forward button on aging.
Free Radical Multiplier #2:
Too Little or Too Much Exercise
A study published in Oxidative Medicine and Cellular Longevity found exercising too little increases free radical damage… 15
Which also leads to high blood pressure, clogged arteries, metabolic disorders, and other dangerous health issues… 16 17
But on the other end, too much exercise can increase free radicals too. 18 19
So you're damned if you do, damned if you don't…
Now, there's a "sweet spot" - the problem is, most guys don't find it.
You either go balls to the wall or you don't train enough…
But that's why adding the free radical eliminating fruit to your diet is a big help…
Because it means you can exercise however you want and it won't accelerate aging.
Free Radical Multiplier #3:
When you were in your teens and twenties, you didn't have much to worry about…
But by the time you hit your 30s… your stress-o-meter jumps up…
You have bills to pay, a family to feed, relationships to work on, plus other stuff that dog piles on top… like a busted transmission or leaky septic tank.
All of that contributes to increased stress…
And when you get stressed, your body releases free radicals. 20
Of course, there are ways to manage stress - but they can be time consuming and tough to stick with…
And that's why adding the simple red fruit to your daily routine is key to fighting back against stress-related free radical damage.
Those three factors play a huge role in free radical production…
And that's just the short list…
There are other factors that contribute to free radical damage as well…
Like sunlight, environmental toxins, medications, and more… 21 22 23
Causing Free Radicals To Build Up In Your Body And Rust Out Your Muscles And Organs!
It's easy to feel like you're trapped in a prison that free radicals have created…
But I'll give you the "get out of jail free" card in a sec…
But it's up to you if you use it.
If you don't, things will only get worse…
But if you're fed up with feeling unhappy about your body and energy…
And you decide to pause, and even reverse, free radical damage…
Using a method that's been proven by real science…
It'll be like you stepped into a time machine…
And you'll feel so much younger and better.
This is where the ruby red fruit comes into play…
It's The Most Powerful Food For

Reversing

Free Radical Damage On The Planet…24 25 26
It's called acai berry…
(but not just any kind of acai berry… the type that'll help you win the battle against age accelerator molecules is much stronger than normal acai - more on that in a minute).
Acai is a rare berry that grows at the very tops of acai palm trees in Brazil…
The men who gather these berries are like real life Tarzan…
They're strong but nimble and risk their lives with every climb (because acai trees are very tall but flimsy)...
And acai berries contain a compound that battles against free radicals…
These compounds are called antioxidants…
Which is something you've probably heard of before… but I bet you didn't know how critical they are for your health.
A Study From Texas A&M University Found Men Who Drank Acai Berry Juice Had Up To 3x More Antioxidants In Their Bodies Than The Placebo Group… 27
But what makes acai berries so powerful - and specifically…
The type of acai that modern science has made into a super berry for men…
Is they contain a specific kind of antioxidant that works like a S.W.A.T. team against free radicals…
Taking out the enemy suddenly and efficiently.
This "special forces" group of antioxidants is called anthocyanins…
Let's go back to the car analogy for a sec…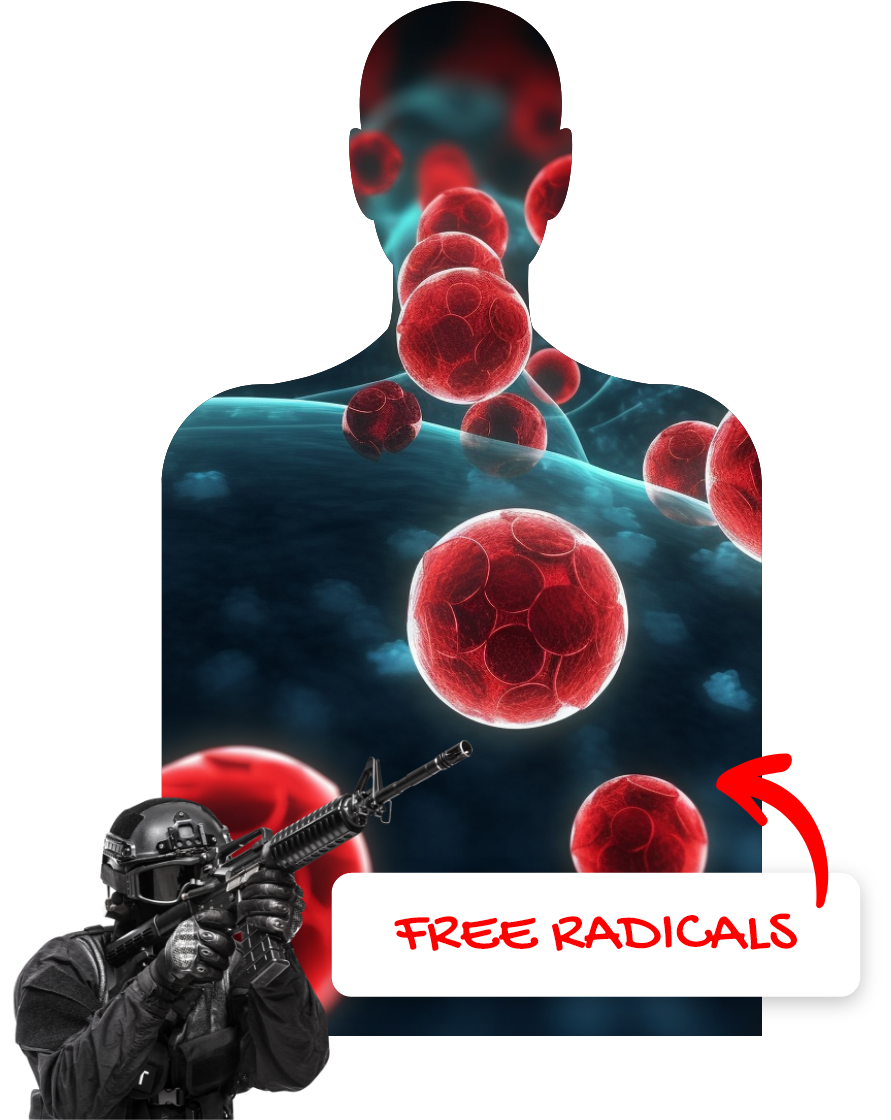 If free radicals are like dirt and grime that build up in a car and cause it to get rusty and fall apart…
Anthocyanins are like a special cleaning solution that helps eliminate the dirt and grime to keep the "car" (your body) running smoothly…
They keep your muscle, heart, and lung cells healthy and "young". 28
Here's A Closer Look At How Anthocyanins Can Chisel Your Body And Make You Feel

Younger…
To build muscle, your body goes through a process called muscle protein synthesis.
Think about muscle protein synthesis like building a wall.
In order to build the wall, you need bricks… and then you stack those bricks together.
In the same way, when you want to build muscle you need proteins…
And your body creates new proteins through muscle protein synthesis.
It then adds those proteins to your muscles (like putting bricks in a wall) to make them bigger and stronger. The problem is…
Muscle protein synthesis slows down as you age…
But when you get more anthocyanins into your diet, it boosts muscle protein synthesis regardless of age. 29
If you remember the "biological clock" you learned about earlier…
Free radicals push the fast-forward button on that clock… 30
But new studies show anthocyanins help reverse it…
By combating free radicals…
And even "undoing" some of the damage they've caused in the body.
In essence then, anthocyanins make you "younger" from the inside-out. 31 32 33
Anthocyanins also help to reduce inflammation…
Which has a powerful "anti-aging" effect…
As inflammation has been tied to most causes of aging, disease, and death. 34 35 36
This partly goes back to inflammation…
Anthocyanins improve muscle recovery by reducing post exercise inflammation. Now…
You want to have inflammation when you train…
That's healthy inflammation that leads to muscle growth…
But you don't want that inflammation to last more than an hour or so… 37 38
So consuming anthocyanin rich acai after a workout can help reduce that inflammation so you recover faster and feel better. 39
In fact…
A study published in the Journal of the International Society of Sports Nutrition…
Shows when men consume anthocyanins post-workout it significantly reduces muscle soreness. 40
And if you train really hard (which creates free radicals like you learned earlier)...
Studies show anthocyanins help zap those free radicals so they don't do as much harm. 41
At the end of the day, it's pretty simple…
Free Radicals Make You Old… But Anthocyanins Keep You Young…
That's why it's critical to get anthocyanin-rich foods into your diet like acai berry…
Because when you do…
You'll battle back against the rebel molecules that literally make you "old". Meaning…
Less joint pain…
Less fatigue…
Less muscle soreness…
Less belly fat…
Less health problems…
More muscle…
More strength…
More energy…
More confidence…
And better health…
But There Is One More Important Piece Of The Puzzle If You Want To Get The Full

"Time Machine Effect"…
See…
You would have to eat a LOT of anthocyanin rich fruit like acai berries, pomegranates, strawberries, and cranberries (plus a few other fruits that are harder to find)...
In order to get enough anthocyanins into your diet to make an impact…
BUT trying to get anthocyanins through all that fruit adds up to hundreds of extra grams of sugar per day…
Which can lead to major health problems and increased belly fat…
And like you learned earlier, belly fat is a breeding ground for free radicals…
So trying to eat more anthocyanin rich foods is almost like taking one step forward and two steps back…
And that's why I'm excited to share this cutting edge new trick with you…
It's A Way To Flood Your Body With Tons Of Anthocyanins Without All The Extra Calories…
It's a powerful extract of acai berry that virtually dumps vials of anti-aging anthocyanins into your body…
To take out free radicals and restore your youth, muscle, and strength…
It's called AcaiVida®…
Think about that…
You can try to eat hundreds of acai berries per day to get enough anthocyanins to feel like yourself again… but sabotage your blood sugar and weight gain while you're at it…
You can try to restrict your diet, find the right exercise plan that won't jack up your free radicals, avoid too much sunlight and toxins and all that other stuff…
Or you could simply mix a tablespoon of AcaiVida® into a glass of water and get all the benefits of acai berries without the extra calories and sugar.
But here's the truth…
As awesome as this cutting edge new acai berry extract can be, don't stop there…
There Are A Few Other Ingredients That - When Combined With

AcaiVida®

- Will

Reverse Aging

Almost Overnight…
The next one is amla fruit…
In Indian medicine amla fruit is a sweet and sour fruit classified as a "rasayana"...
Which means it helps restore and invigorate the entire body - heart, spirit, and soul…
And in Hinduism it's been called "the elixir of life" and was believed to have fallen from the gods to the earth. 42
Modern studies show it's a powerhouse for muscle recovery, cardiovascular support, and anti-aging. 43 44
Amla fruit has 20x more vitamin C than oranges…
Which is critical because vitamin C is an antioxidant that helps fight free radicals and prevent damage in your cells… which slows down biological aging. 45 46 47
One of the most critical benefits of amla fruit is that it boosts endothelial function.48 49
The endothelial is the part of your arteries and blood vessels that controls dilation. In other words…
It opens up the blood vessels and improves blood flow to…
To accelerate recovery in between workouts, increase muscle size, and boost strength and stamina when you train… 50 51
To help you look younger by boosting nutrient delivery to your skin… 52
To improve your focus, mood, and drive so you can get in the zone in the gym and everywhere else… 53 54 55
Which is key for getting an erection and staying hard when the time's right…56 57
So by adding amla fruit along with AcaiVida® you'll flood your body with two of the most powerful anti-aging ingredients on the planet…
Ingredients That You Couldn't Get Into Your Diet If It Hadn't Been For The Simple Trick I'll Show You In A Minute…
But before I do, there are a few other ingredients that'll help you build the body you want and feel younger even faster…
The next ingredient is pomegranate juice extract…
In one study, weight lifters were given pomegranate juice extract after their workouts…
These workouts were 90-120 minutes per session…
Which, like you learned earlier, can actually increase free radical production.
Before the study, scientists recorded one-rep max lifts for the snatch, clean and jerk, and squat… along with blood pressure and heart rate before and after each training session…
And after drinking pomegranate juice extract, these lifters…
Got Significantly Stronger On Their

Max Lifts

Than They Were Before Drinking The

Pomegranate Juice Extract…
They also had a decrease in muscle soreness and faster muscle recovery between workouts…
And they even had improved blood pressure during and after training…
As a bonus, they also discovered it lowered free radicals. 58
In another study at the University of North Carolina, researchers gave men a pomegranate extract supplement…
And measured how it affected blood flow, and exercise performance…
Each volunteer completed three exercise treadmill tests to exhaustion…
And found adding pomegranate juice extract improved performance. 59 60
So after discovering how these powerful ingredients are for anti-aging and exercise performance…
I wanted to create a convenient way to wipe out excess free radicals for good…
That involves zero work and only takes a few seconds to do…
So You Can Break Free From The "Status Quo" Of What Aging Is "Supposed" To Look Like… And Set A New Bar!
To tap into your biology and literally reverse your biological clock…
To maintain strength and muscle that looks great when your shirt comes off…
To have the energy to keep up with your kids, stay active with your hobbies, try new things… and never let your body fall apart like a clunker car…
And to start feeling like an upgraded version of YOU.
Think about it…
For the last several decades you've had no idea that free radicals were having a heyday in your body. It's like getting sucker punched by an invisible enemy over and over again.
But now, for the first time ever, you have an easy way to fight back…
With a cutting-edge anti-aging formula for men…
Warrior Reds is a free-radical fighting reds powder packed with AcaiVida®, amla fruit, pomegranate juice extract and 4 other powerful anti-aging ingredients…
Backed by research to help reverse your "biological" clock while making you stronger, sharper, and gung-ho with energy.
All you do is drink a serving of Warrior Reds a day…
And you virtually deploy an army of free radical fighting "soldiers" into your body helping you maintain your youth regardless of age.
And because this combination of ingredients helps to battle against free radicals and even reverse years or decades of damage…
You'll find all the effort you put into your workouts actually begins to pay off…
You lose fat and harden up those "soft spots" on your physique… feel proud of what you see in the mirror… and comfortable in your own skin…
Not to mention your workouts don't knock you on your butt like they used to.
Instead you feel amazing after you train - more mobile, energized, and without all the creaking and cracking you feel right now…
And my favorite part…
Warrior Reds tastes incredible.
You'll look forward to the refreshing mixed berry flavor… which makes it easy to stick with… because you'll actually enjoy drinking this every day…
But before I get to how you start using Warrior Reds to defy aging and feel your best…
Let Me Tell You More About The

Ingredients Inside…
The next ingredient we added to Warrior Reds is called mangosteen super ORAC…
Magosteen is one of the most nutrient-rich foods on the planet with high antioxidant qualities…
And is full of a unique antioxidant called xanthones.
No other plant has the same quantity of xanthones as mangosteen…61 62 63 64
And here's why that's important…
Xanthones are the best antioxidants for reducing muscle soreness and joint stiffness after workouts. In one study…
Men Who Were Given A Mangosteen Supplement Had A 28% Reduction In Muscle Soreness… 65
You can't find this ingredient in America.
It's harvested from pristine farms in Thailand…
But you'll get a powerful daily serving inside Warrior Reds.
The next ingredient is MaquiForza™…
A patented extract of maqui berries… which is an exotic dark purple fruit that grows wild in South America.
This is another antioxidant powerhouse… 66 67 68
And helps reverse aging from multiple angles.
In a 4 week clinical study men who took maqui berry extract three times per day had significantly reduced levels of free radical damage compared to men who didn't. 69
And in additional studies it demonstrated powerful anti-inflammatory effects. 70 71
MaquiForza™ is a powerful extract of maqui berries that uses a delicate freeze-dried process to maintain its exceptional levels of anthocyanins and other antioxidants… 72
And while you'd have to order a gigantic, expensive batch of MaquiForza™ to get it on your own… you get a full serving inside every scoop of Warrior Reds.
The next ingredient in Warrior Reds is Jabuvital®…
This is a powerful extract of another rare fruit called jabuticaba…
Which is one of the best sources of anthocyanins and another group of free radical fighters called ellagitannins. 73 74
This cutting edge extract is obtained from the peel of jabuticaba fruit which is where all the antioxidants are.
In one study, researchers tested the effects of jabuticaba extract on athletes to see how it impacts muscle damage and oxidative stress…
And the researchers discovered it powerfully helped them feel better after their workouts and reduced muscle breakdown. 75
Studies also suggest simply adding this extract to your diet…
Can Help Reduce

Belly Fat

, Boost Metabolism, And Balance Appetite Hormones… 76
The last ingredients we added to Warrior Reds is a combination of strawberry juice powder and cranberry juice powder…
Which provides both a preworkout and postworkout boost… by adding that extra dose of free radical fighting antioxidants. 77 78
They also help accelerate recovery between workouts and reduce stress.
In one study, cranberry powder was shown to significantly strengthen the antioxidant potential in men who do strenuous exercise… 79
It's also been shown to fight free radicals for 8 hours after consumption. 80
And in another study, strawberries were shown to help support cardiovascular health and metabolic health. 81
When You Add Warrior Reds Into Your Daily Routine You'll Unlock A "Time Machine Effect" That'll Change Your LIfe…
Because by getting these powerful anti-aging ingredients into your diet day after day…
You'll virtually rewind time inside your biology - aging, muscle loss, and fatigue… will all go backwards like you hopped in a time machine.
And with the help of Warrior Reds, you'll be the man you've always wanted to be…
Overflowing with energy to keep up with your kids…
Having the kind of chiseled body that impresses your wife… or, if you're single, has the hotties crawling all over you…
Your peers will think you're drinking from the fountain of youth because you run circles around them…
And In A Way, You Are Drinking From

The Fountain Of Youth…
Because as long as you keep drinking Warrior Reds…
You're choosing to fight back against the root cause of aging…
And while everyone else is getting pulverized by free radicals…
You're the one doing the pulverizing…
Staying young and strong…
Feeling amazing everywhere - your muscles, joints, brain, heart, "manhood"...
The whole package.
All You Have To Do Is Add 1 Scoop Of Warrior Reds To A Glass Of Water Or A Smoothie…
Mix it. Drink it. And pat yourself on the back. Because you've just reversed aging.
It's that simple to detox your body of dangerous age-accelerating free radicals.
And it's much easier than trying to hunt down all these ingredients and pay a gigantic grocery bill…
(Plus I know how easy it is to forget about fruits and vegetables sitting in the fridge… and after a few days they "go bad"... which is a big waste of money)...
And you won't have to order a huge supply of the patented ingredients inside our formula (which would be the only other way you'd be able to get those ingredients).
Seriously, if you were to try and get the ingredients inside Warrior Reds on your own in their true organic or patented forms… it would cost you an extra $400-$1000 per month!
But Warrior Reds Is An Easy, Convenient, And Affordable Way To Win The War Against

Aging!
But you need to act fast because…
Out of stocks are a very real risk and we only have a limited supply.
We've put together the most powerful free radical fighting formula there is…
And honestly, it wasn't cheap or easy to do. But the latest research shows these ingredients are the solution to pause and reverse that "getting old" feeling.
And I want you to be able to live a full, energetic life… and get to do what YOU want to do without your body holding you back…
So I was happy to put in the time and effort to get this cutting edge formula created.
But with that said… several of the ingredients in Warrior Reds are rare. You can't even find some of them in the United States…
So that means…
If Our Manufacturers Run Out Of Supply On Just One Ingredient, We Could Get Backed Up For Weeks…
And with everything going on in the world… there's just no telling from one day to the next what might happen…
But I'll show you how to secure bottles of Warrior Reds for the cheapest possible price and without having to worry about supply chain issues or out of stocks…
Because it would suck to order bottles of Warrior Reds and start seeing a difference in how you look and feel…
But then you run out, and slowly begin losing control of your body and health again.
The fat around your gut starts dog-piling back on… your back hurts like hell after your workouts… you visibly see yourself getting older and less attractive in the mirror…
Plus your energy levels plummet and you have a hard time mustering up the desire to get out of bed, let alone keep up with your kids or do something fun with your buddies.
Exhausted. Uncomfortable. Insecure.
I know you won't want to go back to that after you start using Warrior Reds… so it's super important you grab the right supply today.
With everything that's gone into Warrior Reds… and because this formula is as good as it gets…
I could easily charge $95 per bottle and it would still be totally worth it…
And even that would be way less than a monthly bill for all the ingredients in our formula.
But you won't have to pay anywhere near that today. Because…
I Struck A Deal With The Manufacturers To Bring Warrior Reds Down To The

Lowest Price

Possible…
So while the retail price of Warrior Reds is $79…
On this page for the special new release discount…
You can claim your discounted bottle of Warrior Reds for just $67 while supplies last.
But it gets better.
Studies show the longer you take the ingredients inside Warrior Reds, the better the results get. And honestly, free radicals aren't going anywhere.
The moment you quit using something like Warrior Reds, they'll start creeping back and taking over…
So You Want To Think Of Warrior Reds Like A Multivitamin. Better Yet, Like Brushing Your Teeth…
Order 3, get

$57

per bottle
Order 6, get

$47

per bottle
It should become a no-brainer part of your routine…
Because the fact is, you need this stuff to keep yourself young and strong in the face of the factors that accelerate aging both inside and outside your body…
So that's why I made sure we got the 3 month supply and 6 month supply down to super low prices… so you can make Warrior Reds as natural as taking a shower.
So when you order 3 bottles of Warrior Reds you'll pay just $57 per bottle…
And when you order 6 bottles of Warrior Reds, you'll pay just $47 per bottle…
Which is $192 in savings… plus you don't have to worry about out of stocks or supply chain issues or any of that mess…
All You Have To Do Is Keep Taking Warrior Reds Every Single Day And Get

Younger

From The

Inside-Out…
And hey, it doesn't matter what bottle option you choose… I want to save you as much money as I can…
So if you're a customer in North America you'll get FREE shipping on your order, which saves you an extra $14.95.
Choose The 3 or 6 Month Discounted Supply of Warrior Reds
(Or Whatever Option Works Best For You Below)...
Sample Package
1 Month Supply
Your price:
(Total : $67)
Includes A 365 Day Money Back Guarantee

Free Shipping In North America
Best Value
6 Month Supply
Your price:
(Total : $282)
Includes A 365 Day Money Back Guarantee

Free Shipping In North America
Most Popular
3 Month Supply
Your price:
(Total : $171)
Includes A 365 Day Money Back Guarantee

Free Shipping In North America
After you click the "Add To Cart" button...
You'll be taken to a secure checkout page where you can complete your order…
And we'll ship your bottles right away… so your supply of Warrior Reds arrives 5-7 business days from now.
And to give you complete peace of mind about your order… when you order right now, I'll protect your order with a secure money back guarantee.
Ironclad 365 Day

100% Money Back Guarantee…
If for whatever reason you don't feel like Warrior Reds is helping you feel younger, stronger, and better…
Then you'll get your money back.
All you have to do is send me an email to let me know.
I won't interrogate you with questions, try to talk you out of it, or make you send the bottles back.
It'll be a simple transaction and we're done.
So you have nothing to lose.
Either Warrior Reds helps you feel younger, stronger, and better… or you get your money back.
With that said, the ingredients inside Warrior Reds are proven to work in the latest anti-aging science… so you can order your bottles with confidence today…
So before supplies run out…
And while this special discount and free shipping offer is still available…
Choose The 3 or 6 Month Discounted Supply of Warrior Reds
(Or Whatever Option Works Best For You Below)...
Sample Package
1 Month Supply
Your price:
(Total : $67)
Includes A 365 Day Money Back Guarantee

Free Shipping In North America
Best Value
6 Month Supply
Your price:
(Total : $282)
Includes A 365 Day Money Back Guarantee

Free Shipping In North America
Most Popular
3 Month Supply
Your price:
(Total : $171)
Includes A 365 Day Money Back Guarantee

Free Shipping In North America
Imagine waking up in the morning, and instead of rolling out of bed like a mummy… feeling sore from yesterday's activities…
You spring out of bed like a kid on Christmas morning. You feel refreshed and have a clear goal for the day ahead.
You start off by hitting the gym or doing a kettlebell workout from home… make yourself a healthy egg omelet with a side of bacon and a glass of Warrior Reds…
And as you drink Warrior Reds, the powerful anthocyanins and other antioxidants in each sip flood into your body and flush out free radicals…
And help accelerate how quickly you recover after your workout, while stimulating muscle protein synthesis so you actually see results from your efforts…
When you strip down to hop in the shower, you aren't disgusted by what you see in the mirror…
Because your belly, love handles, and "man boobs" are all being replaced by chiseled, lean muscle.
The lines in your abs are starting to come through. Your biceps and shoulders are looking bigger. And you feel fantastic about the progress you're making.
Your wife tells you how good you look. Your peers comment about how you've been losing weight. Some of them even notice you're getting ripped! And that's because…
You're Making Awesome Choices For Your Health And The Powerful

Anti-Aging

Extracts In

Warrior Reds

Are Doing Their Job…
At work you're focused and productive. You take breaks to stretch out and keep your muscles nice and flexible. And when you get home in the evening you spend time with your kids, take a walk with your wife or girlfriend because you have the energy to do so.
You feel strong, healthy, fulfilled… and younger and more vibrant than you have in years.
That's what you can look forward to when you take action today…
And decide to make Warrior Reds a normal part of your routine like brushing your teeth or taking a multivitamin.
And I know you agree, that beats the hell out of getting fat, tired, skipping workouts, and feeling sluggish and unmotivated…
Yet, if you don't take action today, that's what the future holds.
Look Around You At The Guys Who've Settled For Becoming Lazy Cream Puffs As They Get Older…
Guys who have no self confidence. Who don't have the energy to keep up with their family. Guys who develop a huge list of health problems and their medicine cabinets look like their own pharmacy.
They feel frustrated and trapped inside their bodies. Yet they chalk it up to "getting older" and do nothing about it.
Break free from that mindset today and save yourself years, maybe even decades of pain and suffering.
Start drinking Warrior Reds and become one of those rare older guys who has the muscle, energy, motivation, and sex drive that makes everyone else jealous.
And remember, when you order Warrior Reds today you'll get free shipping on your order… and your order is protected with a full year 100% money back guarantee… which is the best money back guarantee in the business.
It's either you feel younger, stronger, and better… or you get your money back.
You've got nothing to lose, but so much to gain!
Just select how many bottles you'd like us to send you below, complete the secure checkout form on the next page, and your bottles of Warrior Reds will arrive 5-7 business days from now… and you can start getting better with age.
Go ahead and do that now.
Thank you for taking time to read this report and I can't wait to hear about your results.
Choose The 3 or 6 Month Discounted Supply of

Warrior Reds
(Or Whatever Option Works Best For You Below)...
Sample Package
1 Month Supply
Your price:
(Total : $67)
Includes A 365 Day Money Back Guarantee

Free Shipping In North America
Best Value
6 Month Supply
Your price:
(Total : $282)
Includes A 365 Day Money Back Guarantee

Free Shipping In North America
Most Popular
3 Month Supply
Your price:
(Total : $171)
Includes A 365 Day Money Back Guarantee

Free Shipping In North America
Frequently Asked Questions
Choose The 3 or 6 Month Discounted Supply of

Warrior Reds
(Or Whatever Option Works Best For You Below)...
Sample Package
1 Month Supply
Your price:
(Total : $67)
Includes A 365 Day Money Back Guarantee

Free Shipping In North America
Best Value
6 Month Supply
Your price:
(Total : $282)
Includes A 365 Day Money Back Guarantee

Free Shipping In North America
Most Popular
3 Month Supply
Your price:
(Total : $171)
Includes A 365 Day Money Back Guarantee

Free Shipping In North America